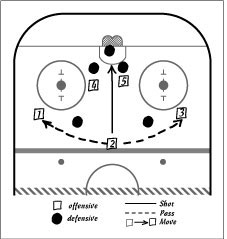 For two years after the lockout, the Rangers had a powerplay in the top 10. The last two seasons, the powerplay has been in the bottom third of the league, including last season where the team was ranked 29 out of 30.
Yesterday Rangers coach John Tortorella put his players through a power play:
"We're just trying to get a foundation [on the power play]," Tortorella said after practice yesterday in Greenburgh.

"We want to give the players some direction as far as the breakout, how to retrieve a puck, just some foundation plays. But then the coaches need to get out of the way and let them be creative."
Certain players that will be looked upon to raise the Rangers powerplay rank are Marian Gaborik and Vinny Prospal. Gaborik has put in at least 10 power play goals in three of the last four seasons.
Tortorella looks at Prospal to regain some of his magic from their days together in Tampa Bay:
"He's been one of our best players in camp," Tortorella said. "I think he is one of our best puck distributors. [Prospal] is very skilled. A guy that skilled and a guy that competes as hard as he does will make it work. He's an intense guy, and he doesn't get enough credit for how hard he competes."
For more on the Rangers power play, visit the New York Post.
…Obviously the power play needs to step up if the Rangers are going to make an impact this season. Adding Matt Gilroy should add some much needed punch from the blue line as will the addition of either Bobby Sanguinetti or Michael Del Zotto. With his supreme offensive talent, Gaborik could have a great affect on the man advantage, as will former Sabre Ales Kotalik, who has made his living on the power play.
---
---
---
---