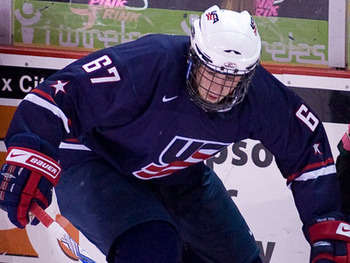 The New York Rangers have selected center Jonathan Miller of the US National Team with the 15th overall pick.
Miller is 6-1, 198 and had 11 goals and 26 assists for the US National team last season.
For more on Miller, click here.
I love this pick for the Rangers. I wrote about him a lot and the comparison that I hear for him is Ryan Kesler. He plays a solid two-way style and isn't afraid to mix it up. Chris Drury is another comparison that people throw out for him. Again, the Rangers took a player that will make them harder to play against in the future. This was a very good pick for the Rangers.

Miller was the choice over Mark McNeill for many scouts, HERE.
On May 29th, in a post about Miller, I wrote:
In the way that the Rangers took Dylan McIlrath, seemingly out of nowhere, last year, a team that likes Miller will take him no matter where they are picking.
Kevin Allen of USA Today writes:
Is a strong bull of a lad who can impact a game in a number of ways. He plays a hard-driving style and can overpower defenders in the corners, winning puck battles and heading straight to net. His playmaking ability is underrated and he unleashes a heavy shot while barreling down the wing.
Miller is going to play at North Dakota next season.
RANGERS SELECT J.T. MILLER IN 2011 NHL DRAFT
U.S. National Development Team forward chosen 15th overall
New York, June 24, 2011 – New York Rangers President and General Manager Glen Sather announced today that the club has selected forward J.T. Miller with the 15th overall pick in the 2011 NHL Entry Draft.
Miller, 18, led Team USA in scoring with 13 points in six tournament contests en route to capturing the gold medal at the 2011 IIHF U-18 World Junior Championship in Germany. He tied for third among all tournament skaters in points, fourth in assists (nine), sixth in goals (four), and seventh with a plus-eight rating. Miller was selected by tournament coaches as Team USA's top player during the elite tournament after leading Team USA in points and assists, and finishing second on the team in goals and plus/minus rating.
The East Palestine, Ohio native skated in 48 games with the U.S. National Under-18 Team (USHL) last season, registering 11 goals and 26 assists for 37 points, along with 80 penalty minutes. Miller established USHL career-highs in games played, assists, points, and penalty minutes, and ranked third on the team in points, and second in assists and penalty minutes. He also established career-highs with two shorthanded goals and three game-winning goals, and notched a USA U-18 career best, two power play goals. His two shorthanded goals tied for the team lead, while his three game-winning goals tied for fourth on the club.
Internationally, Miller registered three goals and eight assists for 11 points in eight contests at the Four Nations Cup in Sundsvall, Sweden and the Five Nations Tournament in Hradec Kralove, Czech Republic. He notched two goals and three assists for five points in four games at the 2010 Four Nations Cup from November 10-14. In addition, Miller tallied six points (one goal, five assists) in four games at the 2011 Five Nations Tournament from February 7-13. He led all tournament skaters with five assists, and ranked seventh in scoring with six points.
The 6-1, 200-pounder has appeared in 95 career games over two seasons with the U.S. National Development Team (USHL), registering 26 goals and 42 assists for 68 points, along with 159 penalty minutes. Miller entered the 2011 NHL Entry Draft as the third-highest ranked U.S.-born skater and 23rd overall among North American skaters in the final Central Scouting Rankings.
---
---
---
---