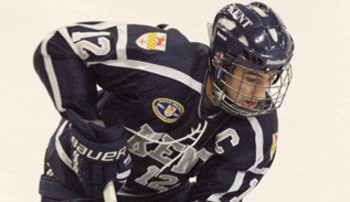 With the 59th pick in the draft, the Rangers select Cristoval (Boo) Nieves.
Boo is from Syracuse, (Baldwinsville) NY and is 6-2, 185 lbs.
Bob McKenzie said "He skates like the wind and is a big physical specimen who is heading to Michigan. There is a lot to like with the physical tools that he has."
McKenzie says that the pick reminds him of when the Rangers took Huge Jessiman since Nieves is a project and the jury is still out on what he can do with his talent.
10:55AM: McKenzie tweets, "When I compared Nieves to Jessiman it was only to the extent that they are/were prospects with tremendous physical tools/potential."
Future Considerations ranked him 38th, saying "A big and fast, skilled playmaking winger. His feet are one of his biggest assets as he is explosive from stand still and can blow by defenders. He has an extra gear that few in his class possess and also has good power in his stride as he can carry the puck and work through checks. He makes decisions quickly and can really handle the puck calmly, even at full speed."
"He has great vision and can really thread the needle with his passes. His shot is not as strong as it will be once he fills out but he can score off the rush with it. His overall consistency will need to improve as will his strength—his upper body is lanky. He drives the net with his long reach and size but is not an overly physical player. He played the season with Kent School before moving over to the Indiana Ice of the USHL when the prep school season concluded. He will get time to develop physically and address problems with his consistency and defensive game at the University of Michigan starting this fall."
---
---
---
---