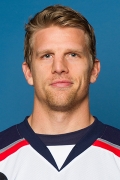 12/18/14 | 12:45PM: Joey Crabb of the Wolf Pack is being isolated from the team and is being tested for the mumps. (NYR)
The Rangers acquired Crabb from Florida in October for Andrew Yogan and Steven Kampfer to open up a spot on the 50 contract list for Anthony Duclair.
He has three goals and four assists for the Wolf Pack in 22 games.
Derick Brassard and Tanner Glass are Rangers who have had the mumps.