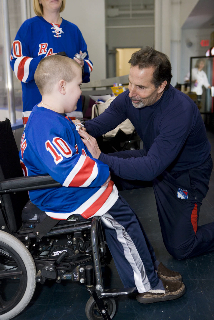 At The Bio File, Scoop Malinowski went in search of how John Tortorella is remembered in Tampa Bay.
He spoke with Scott Audette, who is the team photographer for Tampa, who said that "I love the guy" and said that the charity he work did in Tampa was "amazing."
To see the real Torts is to see him when he's with the kids. Then you see him let his guard down. That's his soft spot – the kids.
Tom Gilbert said of Torts "I know him on and off the ice. What he did off the ice for this community is fantastic. He had the John Tortorella Fishing Tournament, he would take underpriviliged kids fishing. He loved kids, he loved the community."
Mike Didtler said"What I remember about Torts is not so much his success on the ice but how much he did in the community. He was a very civic-minded person though he didn't blow his own horn about it. "
THIS SECTION is dedicated to the "other side" of John Tortorella.
---
---
---
---