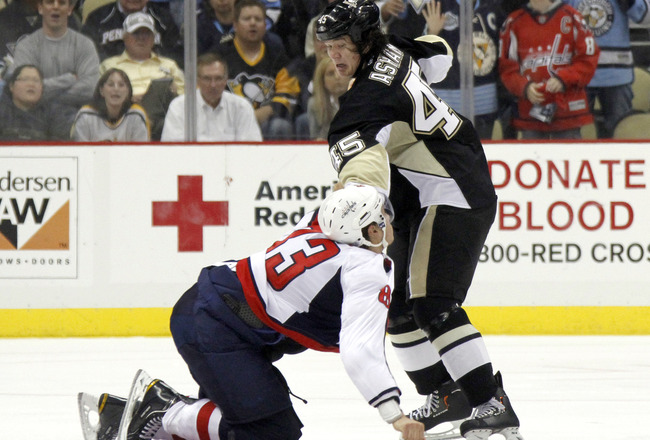 Glen Sather said the Rangers were going to be active in free agency and they lived up to that on day one. They've yet to make the type of blockbuster addition expected but that doesn't mean the roster moves made on July 1st won't impact next season's roster. The most notable signing was that of gritty forward Arron Asham, who once he takes the ice for the Blue Shirts will have played for each team in the Atlantic Division.
Asham likely will fill a spot on the fourth line where he'll bring a little more physicality to the lineup. While he won't have a prominent role on the team Asham's addition was meaningful in another way as it meant the club had decided to move on from fan-favorite Brandon Prust. Asham agreed to a two-year deal worth $2 million and Prust later signed a four-year deal worth $10 million to join the Montreal Canadiens.
It might be easy to look at this like a trade, Prust for Asham, but that's not entirely what this is. Asham will only be expected to fill part of Prust's role on the club. The other reason this can't be viewed as a straight up exchange is that Asham will account for much less on the team's salary cap than Prust would have. The question is what the new Ranger can bring to the club and how much of a drop-off in performance there might be from Prust to Asham.
As a fan I hated this the minute I saw the transaction on the wire during the NHL Network's coverage. Of course that probably has far more to do with what Asham did on the ice against the Rangers rather than anything he contributed to his own team's success. Therefore it's only fair to analyze this move as I do any other potential/actual trade or signing, through the prism of statistical analysis.
By now you know the metrics I like to use when measuring a player's performance. We'll use those same stats here in comparing Asham with Prust. Full disclaimer: I fully expect Prust to outshine Asham in this exercise.
| | | | | | |
| --- | --- | --- | --- | --- | --- |
| Asham | Rel. Corsi | QoC | QoT | ZS | ZF |
| 2011/2012 | -12.3 | -0.094 | -0.28 | 49.3 | 44.4 |
| 2010/2011 | -10.1 | -0.084 | -0.183 | 57.9 | 45.4 |
| 2009/2010 | -0.1 | -0.015 | -0.108 | 51.7 | 50.2 |
| Average | -7.5 | -0.064 | -0.190 | 52.97 | 46.67 |
| | | | | | |
| Prust | Rel. Corsi | QoC | QoT | ZS | ZF |
| 2011/2012 | -7.9 | -0.03 | -0.117 | 33.7 | 43.7 |
| 2010/2011 | -3.6 | -0.004 | -0.049 | 42.3 | 49.1 |
| 2009/2010 | 8.4 | -0.158 | -0.031 | 56.1 | 53.6 |
| Average | -1.0 | -0.064 | -0.066 | 44.03 | 48.8 |
Prust has posted stronger Relative Corsi ratings which suggests he's been better (but still not very good) in terms of puck possession. He's also been significantly better in tilting the ice in his club's favor. He began 56% of his shifts in unfavorable ice position but finished more of those shifts in the offensive zone. Asham meanwhile began more than half of his non-neutral zone shifts in the offensive zone but lost that favorable position more often than not.
It is important to note that while both players skated with well below-average teammates, Asham suffered more because of whom he played with.
Surprisingly, Asham actually was a more prolific point-producer at ES according to their respective rates over the last three seasons. Asham recorded nearly 0.50 more points per sixty minutes of ES ice time than Prust.
One area Asham is unlikely to help the Rangers is on the PK. Prust averaged 1:40 of ice time while the Rangers were shorthanded. Asham didn't play a single second of PK duty last year. Assuming the roster stays the same as it does today the Blue Shirts still have Dubunsky, Callahan, Anisimov, Boyle and Richards on the roster and all played on the PK last year. I also expect Hagelin to see extensive time killing penalties. Worst case scenario the Rangers could always bring back Fedotenko to help. There should be no shortage of capable players to fill out the Rangers PK ranks.
Is Prust a better player than Asham? Yes, he absolutely is. But it's a marginal downgrade for the Rangers and given the sizable disparity in their respective cap charges going forward it is a tolerable exchange; particularly if New York utilizes the cap savings to help add a proven goal scoring winger. As bad as I felt initially I can live with this move assuming the Rangers use the money saved to add an impact scorer.
---
---
---
---